We're now blue....
All 1U and 2U units are now supplied with front and rear panels in blue sparkle finish.
Please note that some of our website pictures are not yet updated to the new colour.
We have now completed our first dBbox2 firmware update to version 2.0
This update adds many more facilities and features to the dBbox2 and is free of charge to all dBbox2 owners.
Please see our Support page for more information.
The new dBbox2 with all the features of the original dBbox and many, many more. Now supplied with our version 2.0 firmware with even more facilities.

We have added a purpose designed machined extruded aluminium case, smaller than the original. Stereo analogue inputs and outputs, pink noise generator, SPDIF support, 1/4 inch and 3.5mm headphone jacks, mini USB power input, tone sweep, GLITS tone, EBU tone, analogue to digital and digital to analogue conversion and more.

&nbsp &nbsp See what our friends at CXTV have to say about the dBbox2
Production monitoring units, SMU10-1U, CMA20 mic amp, DMA40 embedding mic amp, BBP 1 battery headphone amp, De-embedding DEMU10M, Talkback24 DT12 panel, Prehear 2040, DC2012 Comms box
The same range of our popular production monitoring units but with a clean new look.
Bigger buttons with a more positive feel and a larger volume control.

A 1RU version of our analogue monitoring unit SMU10 with a stereo TFT 'analogue' style meter.
All other facilities remain the same as the 2RU SMU10.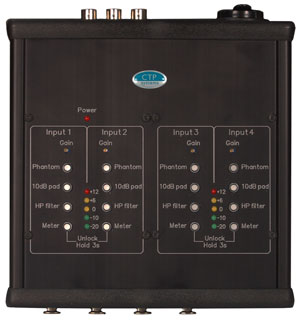 The dual mic amp unit, CMA20 on the left, was originally designed for mounting on a camera. It has both an unbalanced AES output and two analogue outputs.

The EMA40 on the right has four microphone channels and will embed them into a HD-SDI video feed.

Both units include phantom power, HP filtering, a 10dB pad and local metering and monitoring.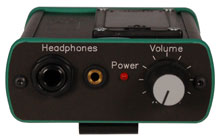 The BBP1 is a very compact battery powered headphone amplifier with both 3.5mm and 1/4 inch jack outputs.

A de-embedding monitor unit with instant access to all 8 stereo pairs and also two stereo analogue inputs with adjustable domestic and professional levels. Primarily designed for headphone monitoring it also includes a speaker and our 'analogue' TFT level metering.

A stereo version of our Prehear1020, the Prehear2040 accepts ten stereo inputs with the same line outputs and mute switching as the 1020. The left//right switching may be selected to either cut the left or right channels or send a mono mix to the left or right speakers and line level outputs.




The DC2012 is our next progression from the highly successful DC99-II commentary box. Designed from the ground up, packaging and facilities have been greatly improved with the highest quality audio a prime objective.



More details on the DC2012 here